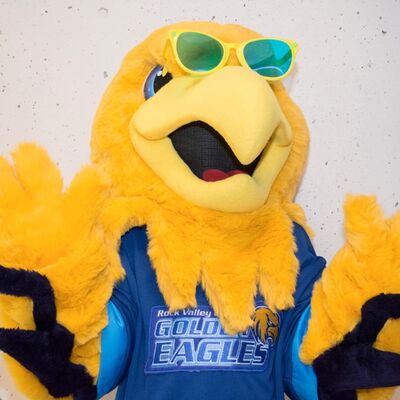 Arvee the Golden Eagle
is the official mascot of Rock Valley College, and the Rock Valley College Athletics.Arvee made his debut in late 2013 with his first public appearance taking place at CherryVale Mall around Christmas time
The name Arvee was chosen as part of a "Name the Mascot" contest that took place in January 2014. Over 350 entries were received and 10 finalists were invited to a special ceremony where the winning name was revealed at halftime of the RVC men's basketball game on February 5, 2014. The winning name of Arvee was submitted by Cristina Szterensus.
Ad blocker interference detected!
Wikia is a free-to-use site that makes money from advertising. We have a modified experience for viewers using ad blockers

Wikia is not accessible if you've made further modifications. Remove the custom ad blocker rule(s) and the page will load as expected.