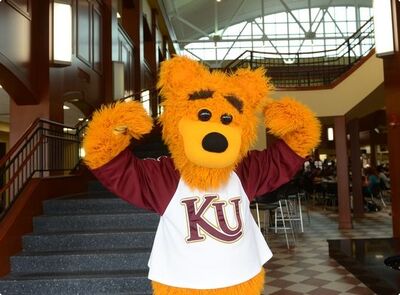 Avalanche the Golden Bear
is the official mascot of Kutztown University of Pennsylvania.
From the mid-1930s up until 1961, Kutztown's sports teams were known as the Golden Avalanche. In 1961, Kutztown replaced the Golden Avalanche nickname with the Golden Bears as the University's nickname. In later years, Golden Bear mascots came into play. Before 2005, Goldie and Griz served as the KU Golden Bear mascots. However, they were both "graduated" to make way for a new mascot. The Raymond Entertainment Group of Newark, Delaware, helped KU create the new mascot. On October 1, 2005, at Kutztown's football game versus West Chester University, Kutztown University unveiled Avalanche as the school's new mascot. Avalanche is so named to honor Kutztown State College during the time of the Golden Avalanche sports teams.
Ad blocker interference detected!
Wikia is a free-to-use site that makes money from advertising. We have a modified experience for viewers using ad blockers

Wikia is not accessible if you've made further modifications. Remove the custom ad blocker rule(s) and the page will load as expected.