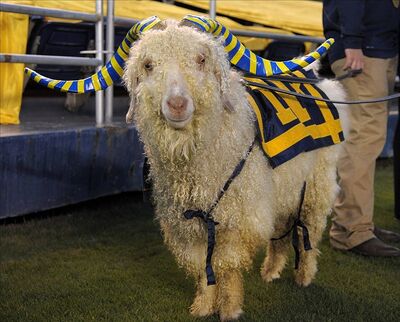 Bill the Goat
is the mascot of the United States Naval Academy. The mascot is a live goat and is also represented by a costumed midshipman. There is also a bronze statue of the goat in the north end zone of Navy-Marine Corps Memorial Stadium. This statue also plays a role in "Army Week" traditions.
The Navy Monkey (which was really a gorilla) was the first mascot. It was the favorite animal of U.S. Secretary of the Navy George Bancroft, who established the United States Naval Academy at Annapolis in 1845 during the administration of President James K. Polk. Bancroft's favorite animal, the monkey stayed the primary mascot -- along with a cat -- from 1847 to 1851. The first Bill the Goat appeared in 1893. Currently, Bill XXXIII reigns as the 36th mascot and is the 33rd goat to be named Bill. His backup is Bill XXXIV.
Ad blocker interference detected!
Wikia is a free-to-use site that makes money from advertising. We have a modified experience for viewers using ad blockers

Wikia is not accessible if you've made further modifications. Remove the custom ad blocker rule(s) and the page will load as expected.