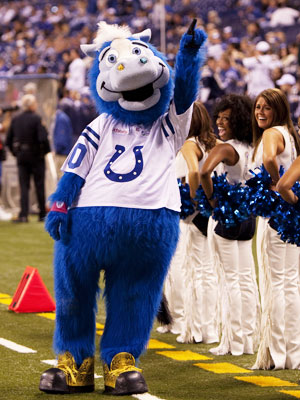 Blue
is the official mascot of the Indianapolis Colts professional American football team of the National Football League. He is an anthropomorphic blue horse who wears a white Colts jersey with a horseshoe on the front. He was first introduced on September 17, 2006 in the Colts' first home regular season game against the Houston Texans at the RCA Dome, in which they won 43-24. Indianapolis's victory over the Texans that day proved to be a sign of good things to come, both for Blue and for the team. That season, the Colts won Super Bowl XLI, defeating the Chicago Bears and winning their first Super Bowl since arriving in Indianapolis (second Super Bowl title overall). Since joining the Colts, Blue has served a valuable good luck charm for the team while also entertaining Colts fans.
Ad blocker interference detected!
Wikia is a free-to-use site that makes money from advertising. We have a modified experience for viewers using ad blockers

Wikia is not accessible if you've made further modifications. Remove the custom ad blocker rule(s) and the page will load as expected.