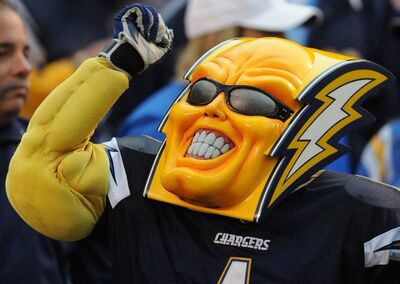 Boltman
is an unofficial mascot of the National Football League's San Diego Chargers. Never truly accepted by the team, the mascot is actually Dan Jauregui, a lifelong fan of the team. Jauregui has long been fueding with the team he shows up to support each week, claiming that they had an oral agreement for him to be the team mascot. Despite never having the 'official" mascot tag, Boltman is regarding by fans of the Chargers as the team's mascot, even assisting San Diego city council when they were dealing with possible relocation.
Ad blocker interference detected!
Wikia is a free-to-use site that makes money from advertising. We have a modified experience for viewers using ad blockers

Wikia is not accessible if you've made further modifications. Remove the custom ad blocker rule(s) and the page will load as expected.