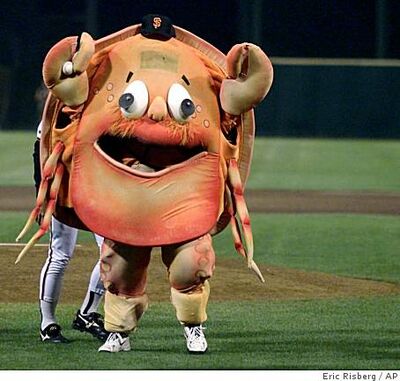 The
Crazy Crab
was a mascot of the San Francisco Giants for the 1984 season. As opposed to other mascots, Crazy Crab was meant as an "anti-mascot", satirizing on the mascot craze that was going on at the time. Fans were encouraged to boo the mascot (played by actor Wayne Doba) and manager Frank Robinson appeared in a commercial with the crustacean where Robinson was restrained from attacking him. This encouragement may have worked too well, as Giants fans regularly threw various dangerous objects at Crazy Crab, including beer bottles and batteries, and Crazy Crab's suit had to be reinforced with a fiberglass shell for protection. The crab was so hated, players on both the Giants and even the opposition would throw rosin bags and other objects at the mascot. Doba sued the San Diego Padres after two of their players tackled him, causing injuries. The mascot lasted only one year and the Giants would not have another mascot until
Lou Seal
in 1996. Crazy Crab has regained popularity in recent years. The crab returned for the last game at Candlestick Park that the Giants played in 1999, and a bobblehead was given away with its likeness in 2008 as the franchise celebrated its fiftieth anniversary in the Bay Area. On July 18, 2008, the Giants held a crazy crab promotion. There is even a website devoted to bringing back the Crazy Crab called Rehab The Crab and now a Crazy Crab sandwich at AT&T Park. In 2014, a 30 for 30 short about the character directed by Colin Hanks, appeared on ESPN.
Ad blocker interference detected!
Wikia is a free-to-use site that makes money from advertising. We have a modified experience for viewers using ad blockers

Wikia is not accessible if you've made further modifications. Remove the custom ad blocker rule(s) and the page will load as expected.