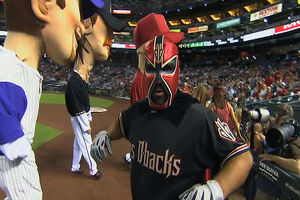 The
D-backs Luchador
is the second mascot of the Arizona Diamondbacks. After a giveaway of masks in June 2012 proved popular, the team introduced the Luchador as a permanent character in July 2013. He wears a black cape, red pants, and a mask patterned after the team's logo. Meant to represent the team's Hispanic fans, the Luchador also wrestles with Club Deportivo Coloseo at the Glendale Park and Swap.
Ad blocker interference detected!
Wikia is a free-to-use site that makes money from advertising. We have a modified experience for viewers using ad blockers

Wikia is not accessible if you've made further modifications. Remove the custom ad blocker rule(s) and the page will load as expected.