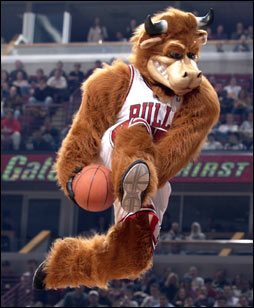 Da Bull
was the secondary mascot of the National Basketball Association's Chicago Bulls. Da Bull was the dunking cousin of
Benny the Bull
, the team's official mascot. He made his debut during the 1995-96 season.
History
Da Bull is Benny the Bull's cousin, and he made his first appearance at a Bulls game during the 1995-96 season. That is why his uniform number is 95. Among Da Bull's many talents are tumbling, gymnastics, playing basketball, break dancing, reading, officiating basketball games, and most importantly, performing his signature slam dunks. Da Bull does not have a tail like other Bulls. He lost his tail while practicing his amazing dunks at the United Center. By not having a tail, Da Bull has been able to perform even more slam dunks and tumbling because his long, skinny tail no longer gets in the way. An injury to his hoof during the 1999-2000 Bulls season sidelined Da Bull briefly, but he returned to the trampoline after a short recovery period." His performer, Chester Brewer, was arrested in 2004 for illegally selling marijuana from his car, therefore retiring the mascot.
Ad blocker interference detected!
Wikia is a free-to-use site that makes money from advertising. We have a modified experience for viewers using ad blockers

Wikia is not accessible if you've made further modifications. Remove the custom ad blocker rule(s) and the page will load as expected.