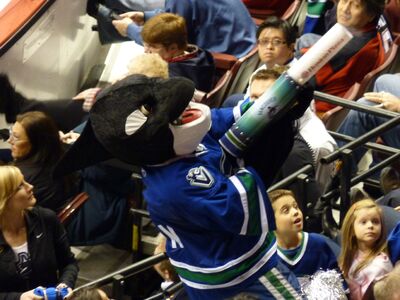 Fin the Whale
is the mascot of the Vancouver Canucks. He is an anthropomorphic orca. Fin is usually hanging around the Canucks, proudly beating his drum at every Canucks hockey game. His trademark move consists of steam emitting from his blowhole and his "chomping" of unsuspecting heads at Rogers Arena. Fin is one of the few NHL mascots who plays the position of a goaltender. He is 6'3 and shoots left.
Fin is very affectionate towards children, having been a regular at Canuck Place, a hospice in Vancouver for terminally ill children.
He is also featured in a series of animated shorts that play during games, produced by Vancouver animation studio Slap Happy Cartoons. His underwater home is known as Fin's Place in the Georgia Strait.
Ad blocker interference detected!
Wikia is a free-to-use site that makes money from advertising. We have a modified experience for viewers using ad blockers

Wikia is not accessible if you've made further modifications. Remove the custom ad blocker rule(s) and the page will load as expected.