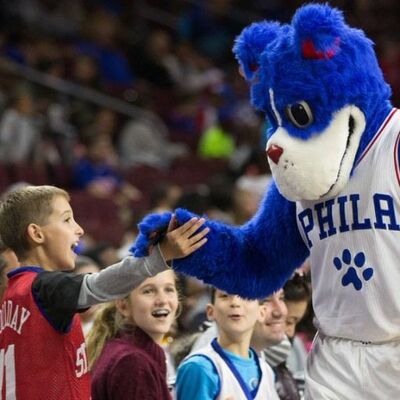 On February 10, 2015,
Franklin the Dog
was introduced as the new Philadelphia 76ers mascot to 400 fans and media at The Franklin Institute. After spending the weekend in New York City for the 2015 NBA All-Star Game as the newest NBA mascot, he then was introduced at the Wells Fargo Center in his first game on February 19, 2015. In almost his first year as the new mascot he has had more than 100 appearances around the Delaware Valley area entertaining fans of all ages with his fantastic dance moves, his dunking skills on the trampoline and his cuddly and warm kid friendly, entertaining and amusing comedic antics. He most recently was invited to Johannesburg, South Africa for the first ever NBA Africa Game, played on August 1, 2015 at Ellis Park Arena and was nationally televised by ESPN, as the game was headlined by Chris Paul, Luol Deng, Pau Gasol, and many more NBA stars.
Ad blocker interference detected!
Wikia is a free-to-use site that makes money from advertising. We have a modified experience for viewers using ad blockers

Wikia is not accessible if you've made further modifications. Remove the custom ad blocker rule(s) and the page will load as expected.