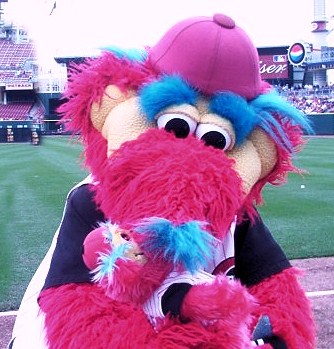 Gapper
is one of the current mascots for the Cincinnati Reds. He was first introduced as the furry companion to
Mr. Red
, the long-time mascot in the winter of 2002 as the franchise was preparing to move to their new home, Great American Ball Park. The mascot was created by David Raymond's Raymond Entertainment Group, the founder being the man inside the
Phillie Phanatic
costume from 1973 to 1993. A young fan won two season tickets for submitting the winning name; he is named after the "gap" in the stands in the seats of Great American, which provides a view into and out of the stadium. The term "gapper" is also a slang phrase for a batted ball which falls into the "gap" between outfielders (generally a ball hit to either left-center or right-center field which rolls to the fence). According to a recent cincinnati.com poll of the Red's four mascots, he is the least popular amongst fans. He received 6% of the voting, Mr. Red received 23%,
Rosie Red
received 34%, and
Mr. Redlegs
received 47%
Ad blocker interference detected!
Wikia is a free-to-use site that makes money from advertising. We have a modified experience for viewers using ad blockers

Wikia is not accessible if you've made further modifications. Remove the custom ad blocker rule(s) and the page will load as expected.