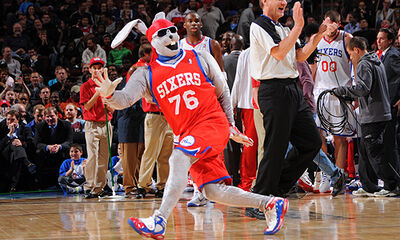 Hip Hop
was the mascot of the Philadelphia 76ers basketball team. A rabbit character, Hip Hop usually entertained Sixers fans during halftime and time-outs by performing acrobatic slam dunks off of a trampoline, often over an item or person, such as a motorcycle, a Sixer Dancer, a fan, or a ladder.
Hip Hop also appeared at various Sixers publicity events and fundraisers. He has a sidekick named Lil Hip-Hop. He also has helpers named the Hare Raisers, who help him out at every home game.
It was revealed Hip-Hop would not be returning post lockout under new Sixers ownership. The decision was unanimous both from the new owners and the fan base.
Ad blocker interference detected!
Wikia is a free-to-use site that makes money from advertising. We have a modified experience for viewers using ad blockers

Wikia is not accessible if you've made further modifications. Remove the custom ad blocker rule(s) and the page will load as expected.