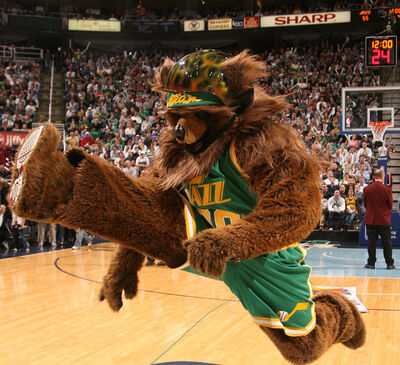 Jazz Bear
is the mascot for the Utah Jazz, a National Basketball Association (NBA) franchise based in Salt Lake city, Utah. Jazz Bear was introduced to the league on November 4, 1994. Since Jazz Bear's introduction, he has performed at over 800 Jazz home games. Utah Governor Gary Herbert declared October 10, 2013 as "Jazz Bear Day" in recognition of his 20th season as the Utah Jazz' mascot, and also his countless hours of community and public service and his standing as an important citizen of Utah. In 2006, Jazz Bear was inducted into the Mascot Hall of Fame. The Bear has suffered many injuries while performing, including tearing his bicep and rupturing a tendon in his calf.
Ad blocker interference detected!
Wikia is a free-to-use site that makes money from advertising. We have a modified experience for viewers using ad blockers

Wikia is not accessible if you've made further modifications. Remove the custom ad blocker rule(s) and the page will load as expected.