Junior is the younger brother of Ace. He made his mascot debut in 2011. He is half the size of Ace so he wears the number 1/2 (half). He only appears on Jr. Jays Saturdays, a team promotion where young fans are encouraged to run the bases post-game. During the game he and Ace stand in two different aisles and they run in slow motion and hug.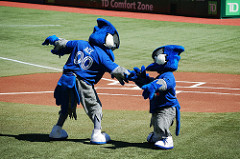 Ad blocker interference detected!
Wikia is a free-to-use site that makes money from advertising. We have a modified experience for viewers using ad blockers

Wikia is not accessible if you've made further modifications. Remove the custom ad blocker rule(s) and the page will load as expected.