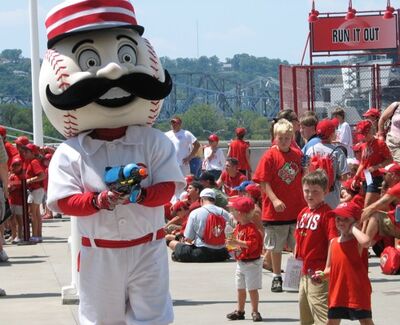 Mr. Redlegs
is a mascot of the Cincinnati Reds. He was reintroduced in 2007 to play a supporting role, along with
Mr. Red
. Mr. Redlegs appeared as a patch on the Reds' uniforms for two seasons in the 1950s (the team briefly assumed the nickname as a response to the second red scare). In 2008, Mr. Redlegs gained national notoriety by falling off of an ATV during pre-game antics. This caused the large, baseball-shaped head to fall off of the Mr. Redlegs costume, exposing the head of the person inside the costume. He was seen a few days later wearing a neck brace as a joke.
Ad blocker interference detected!
Wikia is a free-to-use site that makes money from advertising. We have a modified experience for viewers using ad blockers

Wikia is not accessible if you've made further modifications. Remove the custom ad blocker rule(s) and the page will load as expected.