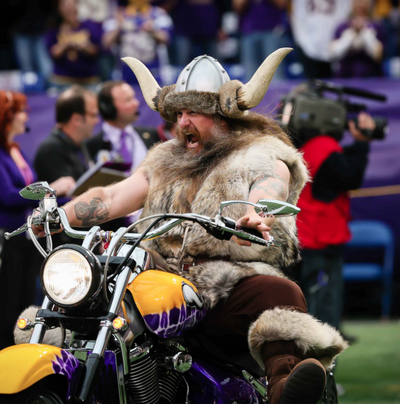 Ragnar the Viking
is the former official mascot of the National Football League's Minnesota Vikings. From 1970 to 1992, Hub Meeds dressed as a Viking and served as the team mascot. Meeds asked to become the mascot after being accidentally let onto the field by security during Super Bowl IV.
From 1994 to 2015, the team mascot was Ragnar (played by Joseph Juranitch) and was based on the legendary Viking Ragnar Lodbrok. Juranitch admits to being somewhat of an eccentric—he holds the current world record for fastest time shaving a beard with an axe, but hasn't shaved his beard since he won the Ragnar job among 3,000 applicants. Ragnar drove onto the field at the beginning of a game dressed in Viking garb, on a motorcycle, while a cheerleader used to ride a snowmobile. Although never one to shy away from confrontations with opposing players, notably Chad "Ochocinco" Johnson, he had a soft spot for Brett Favre while the quarterback started for the rival Green Bay Packers. In 2015, the Vikings announced that they were not able to reach a new contract agreement with Juranitch and released him.
Ad blocker interference detected!
Wikia is a free-to-use site that makes money from advertising. We have a modified experience for viewers using ad blockers

Wikia is not accessible if you've made further modifications. Remove the custom ad blocker rule(s) and the page will load as expected.