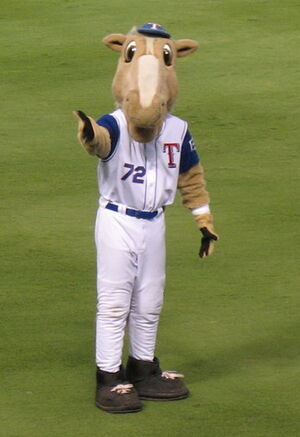 Rangers Captain
is the mascot for the Texas Rangers. Introduced in 2002, he is a palomino-style horse, dressed in the team's uniform. He wears the uniform number "72" in honor of 1972, the year the Rangers relocated to the Dallas/Fort Worth Metroplex.
The mascot also has multiple uniforms to match each of the variants the team has. Rangers Captain's chosen uniform for the game matches the uniform choice made by the team for that particular game. Captain's outfits sometimes match a theme the team is promoting; on Apr 24, 2010, he was dressed up like Elvis as part of an Elvis Presley themed night.
Ad blocker interference detected!
Wikia is a free-to-use site that makes money from advertising. We have a modified experience for viewers using ad blockers

Wikia is not accessible if you've made further modifications. Remove the custom ad blocker rule(s) and the page will load as expected.