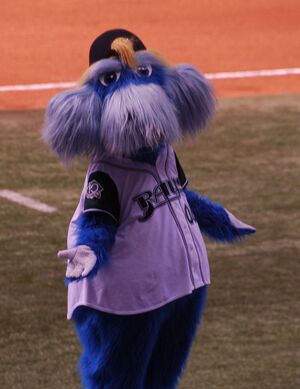 Raymond
is the mascot of the Tampa Bay Rays. Raymond is a furry blue creature wearing a large pair of sneakers and a backwards baseball cap, completed with a Rays jersey. He is described officially as a "seadog," having been born somewhere in the Gulf of Mexico. He is said to reside in a private condominium inside Tropicana Field. Raymond was awarded an honorable mention in the GameOps.com Best Mascot contest for 2006.
Ad blocker interference detected!
Wikia is a free-to-use site that makes money from advertising. We have a modified experience for viewers using ad blockers

Wikia is not accessible if you've made further modifications. Remove the custom ad blocker rule(s) and the page will load as expected.