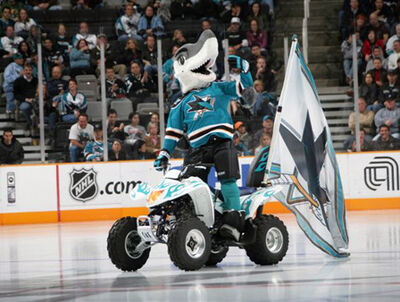 S.J. Sharkie
, an anthropomorphic shark, is the mascot of the San Jose Sharks. He debuted in January 1992.
On March 12, 1999, S.J. Sharkie was involved an incident during the pre-game festivities for that evening's Sharks vs. Red Wings game. During an attempted rappel from the rafters of SAP Center at San Jose (then known as San Jose Arena), Sharkie's jersey became entangled in the rope and rappel equipment, leaving Sharkie hanging approximately 40 feet above the ice. Sharkie remained there while the starting lineups were announced and during the singing of the national anthem. The beginning of the game was delayed 20 minutes while crews worked to rescue him. He was eventually hoisted upward to a catwalk using a secondary rope.
Ad blocker interference detected!
Wikia is a free-to-use site that makes money from advertising. We have a modified experience for viewers using ad blockers

Wikia is not accessible if you've made further modifications. Remove the custom ad blocker rule(s) and the page will load as expected.