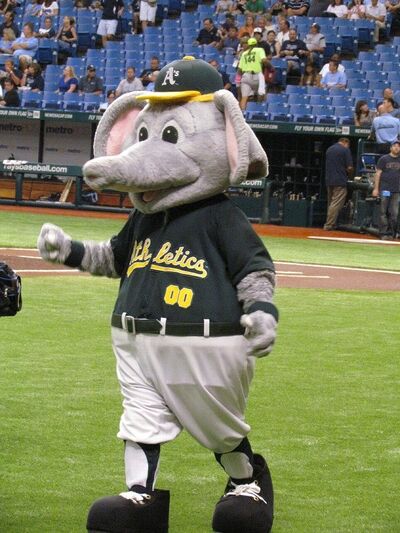 Stomper
is the mascot of the Oakland Athletics. He is an elephant adorned with an A's uniform of the number 00. The use of an elephant to symbolize the Athletics dates from the early years of the franchise, when a group of Philadelphia businessmen, headed by industrialist Benjamin Shibe, became the team's first owners. When asked to comment, John McGraw, manager of the New York Giants of the rival National League said something to the effect that "Shibe had bought himself a white elephant." In response, A's manager (and future owner) Connie Mack selected the elephant as the team symbol and mascot. From time to time the elephant has appeared on the Athletic uniform, including 1988 to present.
In 1997, the A's created a new character and called him Stomper. Stomper has performed at several Major League Baseball All-Star Games, and has appeared in a Public Service Announcement against chewing tobacco.
Ad blocker interference detected!
Wikia is a free-to-use site that makes money from advertising. We have a modified experience for viewers using ad blockers

Wikia is not accessible if you've made further modifications. Remove the custom ad blocker rule(s) and the page will load as expected.