'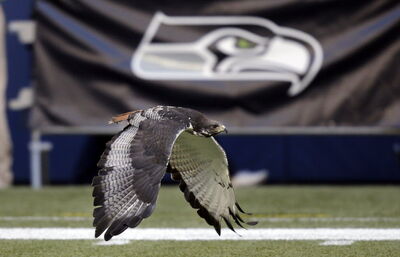 '
Taima
the hawk is a live hawk, one of the official mascots of the NFL's Seattle Seahawks.
History
Taima was hatched on April 21, 2005, at the World Bird Sanctuary in St. Louis, Missouri. She is an Auger hawk (also known as a Buteo hawk) with a black head and tail, separated by a creme chest with a unique creme throat with black stripe. She has a wingspan of approximately 4.5 feet, and arrived in Spokane, Washington on June 13, 2005.
Handler
David Knutson has handled Taima since her arrival in Spokane in 2005. he is a Master Falconer, with over 30 years experience in training and handling birds of prey. He is a die-hard Seahawks fan, who has been performing with Taima at Seahawks games since 2011.
Knutson's company, KlearView Resources, has successfully partnered with many governments, military and private contracts across the western United States to mitigate avian and wildlife control issues by employing birds of prey as part of his operation.
Ad blocker interference detected!
Wikia is a free-to-use site that makes money from advertising. We have a modified experience for viewers using ad blockers

Wikia is not accessible if you've made further modifications. Remove the custom ad blocker rule(s) and the page will load as expected.