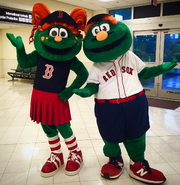 Tessie is one of the official mascots of the Boston Red Sox, making her debut in the 2016 season. Tessie is
Wally the Green Monster
's little sister. She was introduced to the public in January 2016. She was named after the the song "Tessie", a long time anthem of the Red Sox. Since 2004, the song has been performed by Boston natives The Dropkick Murphys, who updated an original turn-of-the-century broadway tune into a modernized classic, complete with Red Sox-centric lyrics.
Ad blocker interference detected!
Wikia is a free-to-use site that makes money from advertising. We have a modified experience for viewers using ad blockers

Wikia is not accessible if you've made further modifications. Remove the custom ad blocker rule(s) and the page will load as expected.