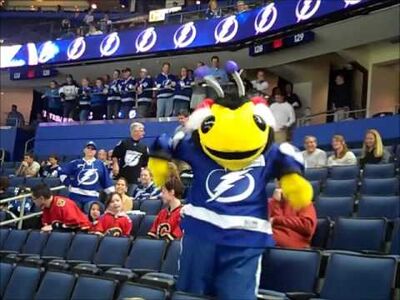 Thunderbug
is the mascot of the Tampa Bay Lightning. He is black and yellow and wears a jersey with the number 00. He usually walks around the stands launching T-shirts to fans.
A video of the Thunderbug spraying a fan of the Boston Bruins with silly string went viral in 2012; less than a week later, a local television station confirmed the female performer was let go, but not exclusively for this incident.
Ad blocker interference detected!
Wikia is a free-to-use site that makes money from advertising. We have a modified experience for viewers using ad blockers

Wikia is not accessible if you've made further modifications. Remove the custom ad blocker rule(s) and the page will load as expected.